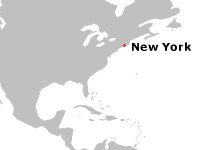 New York City, colloquially referred to as the Big Apple, is a large city located in the state of New York in the western North American Union. It is divided into five boroughs: Manhattan, Brooklyn, Queens, the Bronx and Staten Island. Since 1946, the headquarters of the United Nations has been located in the city, and it is also home to such landmarks as the Empire State Building and the Statue of Liberty.
New York still clings to the financial and cultural importance it enjoyed in the 20th century, but discrete areas such Wall Street, Mid-town and Lincoln Center are encircled by protective fencing to keep the Horde from entering. Travel from one area to the next is by floater bus – expensive, but not out of the reach of the wealthy who use it. Anyone venturing into one of the unpatrolled regions of the city will not likely be seen again. Despite the savagery of the Horde, the unpatrolled areas of the city also hide a number of rebel groups, including cells of the loose confederation of hackers and privatists known as "R" who are fighting the steady erosion of individual liberty.
New York is governed by a City Manager. The current incumbent is Bill Kennedy.
Jim Kawecki lives with his parents in New York.