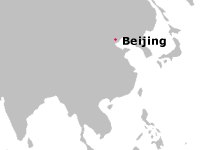 Běijīng (Chinese: 北京), also known in English as Peking, is a city in the Asian Prosperity Sphere and was the capital of the former nation-state of China.
Sato Uchida, leader of the APS, studied at Peking University.
The last surviving yeti, Big Mao, died in captivity in the city's zoo on 12 May 2144.